This begins the start of a very different podcast format because I am on the road at FinCon! The live stream will go on, but each evening, you will get an exclusive podcast show letting you know what happened after the live stream.
I also got to rep a new shirt from my friend Renee Vejvoda at Stitched and Glitzed. She has created Testimony Tees and I get to wear the Empowered one with the definition from Proverbs 31:25…. She is clothed with strength and dignity and she laughs without fear of the future… LOVE IT!
Take care and happy budgeting!



P.S. Are you tired of seeing less qualified and inexperienced people take the stage, talk to your audience and make money? Now imagine if you could land your next 5 speaking gigs through a simple and repeatable process! If you are ready to build your authority, take the stage and change the future of your business, go and REGISTER NOW for the Step-by-Step Guide to Landing Your Next 5 Speaking Gigs! Right now is the best time to look and book gigs for your 2019 calendar!
P.P.S. Every morning, Ask the Budgetologist goes LIVE where I answer any questions you have about money, business, budgeting and soloentrepreneurship. I have a no-judgement philosophy and I understand that very thin line that solopreneurs walk when it comes to managing business and personal finances. Just let me know what we can work on together!
Got questions? Click HERE and ask!
Listen to the podcast daily: iTunes | Google | PodBean
Or watch LIVE daily: Facebook | Instagram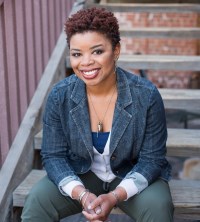 Phylecia Jones
Founder | CEO | Speaker | Writer | Lightweight Adventurer
My mission in life is to see the world and sprinkle some magic on it to help inspire and change it! My fun day job is spent helping solo entrepreneurs get smart with their money so they can achieve their dreams. When I am not writing, speaking, or leading workshops, I love to travel and see different parts of the world!