All Girls are Great at Math
2018 TEDxCherryCreekWomen
There is no greater honor than giving a TEDx talk. In 2018, I had the privilege of taking the stage with TEDxCherryCreek in Denver, CO to launch  the beginnings of a movement that All Girls are Great at Math. With fewer women entering and being represented in the world of tech, finance, and science, I knew it was time to take action with some simple words to encourage change. The talk was inspired by being a woman in STEM, serving as a Budgetologist for solo business owners, and seeing so many women say they are not good at Math. My passion is to change that dialogue and build confidence with girls and women when in comes to pursuing a career influenced by Math.
Tech Needs a Kardashian
2019 TEDxDurango
My STEM Story
Little did I know that flipping though a magazine and seeing an ad for video game programmers… and a bad experience as a high school hospital candy striper, would lead me a decision that would forever change my life. A simple decision to go after a STEM degree in college lead to a life of travel, adventure, new discoveries, and the stepping stones to gaining confidence in my life. My STEM story is not the "typical" I grew up loving math or tech. It includes not wanting to study medicine, baton twirling, professional cheerleading… and a summer in a circus.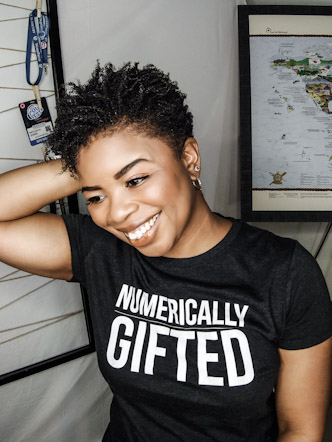 Phylecia Jones
Hi! I am a traveler, happy hour lover, #STEM advocate, and former US Navy computer scientist that stumbled upon building a career as an international keynote speaker, two-time TEDx speaker, national television money nerd and Founder of iFind You Close, finding speaking gigs across the globe.